So, what are LED distribution types? Who defines them? and how – when applied with design in mind – can they can turn your home, office, business or warehouse into a bright-brimming shadowless paradise?
Let's look briefly at what we mean by the term 'distribution' in a lighting context:
LED distribution essentially refers to the shape and pattern of light beamed from a LED fixture onto any given surface. It's a critical factor in lighting design, and is easily overlooked by consumers when attempting an upgrade from expensive and weak halogen lights to environmentally friendly and long-lasting LED's.
We can break down LED light distribution into six main categories, see below.
The 6 LED Distribution Types:
Type I

As seen in the diagram above, Type I distribution provides a wide, symmetrical light for fixtures located in the middle of a walkway. The width of the pattern it creates is about equal to the fixtures height. Type I distribution typically offers lateral width of 15o.
Type I is most suited to lighting:
Walkways
Sidewalks
Narrow paths
Border lighting
Type II

Type II is used for lighting larger areas than Type I, and is usually located on the roadside. With a slightly larger lateral width of 25o, these fixtures light an area up to 1.5 times wider than the mounting height of the fixture. E.g. a fixture mounted 5 metres high will cast light up to 7.5 metres wide on the area below.
Type II is most suited to lighting:
Wide walkways
Side Streets
Laneways
Long narrow roads
Type III
Designed for sufficiently lighting roads, parking areas and public parks Type III distribution expands to provide lateral width of 40o, and again mounted at or near the side of the area being lit. The extra light dispersion allows for greater spread of light over a larger area, meaning a 5-metre-high fixture will cast light 13.75 metres wide.
Type III is most suitable in lighting:
Roads
Parking lots
Public parks
Bus stops
Type IV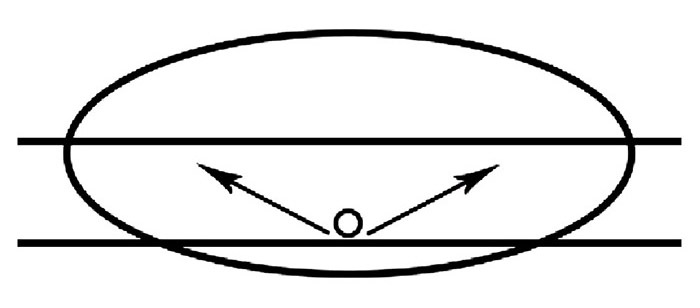 Type IV Distribution offers a larger, oval pattern that throws most its light outwards with a lateral width of 60o. Optimal use of the forward throw lighting is on the outside of buildings and roadsides where the width does not exceed 3.7 times the mounting height.
Type IV is most suitable in lighting:
Highways
Parking lot perimeters
Public parks
Building exteriors
Type V & VS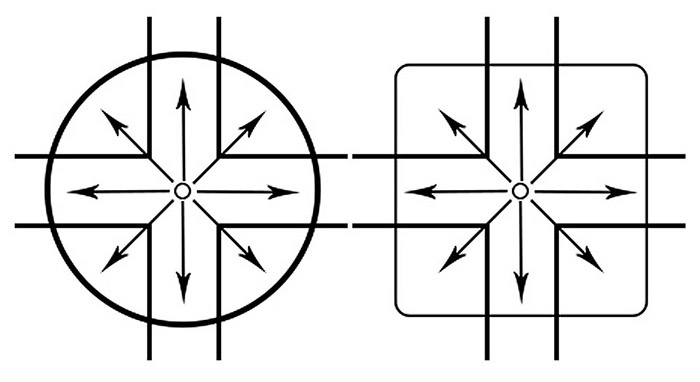 Type V & VS light distributions are designed for large, open spaces that require an even distribution of lighting 360o around the fixture. Depending on your needs, light can be projected in a circular (V) or square (VS) pattern with the same intensity from all angles.
Type V & VS are most suitable in lighting:
Centre islands of roads, roundabouts or highways
Commercial parking lots
Large intersections
Public parks
Now that we understand the basics of LED Light Distribution, we can start planning in conjunction with the other factors of our space how best to bring it to life. In the example below, you can see how three different distribution types cover this entire multi-use sports ground and surrounding roads.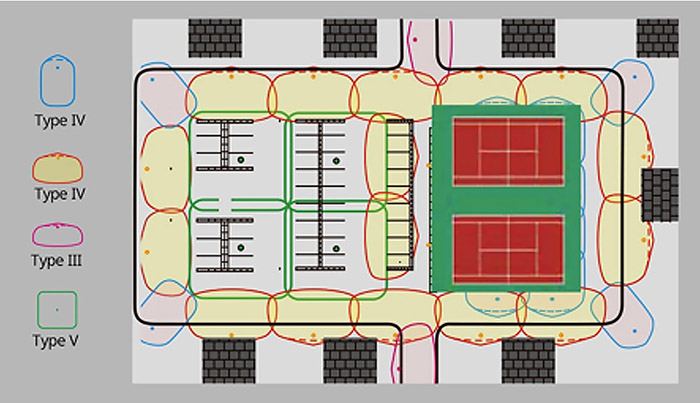 Keep in mind that LED light distribution is just one important part of a complete LED upgrade, along with: fixture type, driver performance, colour temperatures and lumens per watt. We know lighting design can be a complicated business, so when you're looking to upgrade your fittings – look no further than Greenlux, your trusted lighting design experts. We'll light the way.
Greenlux – supporting the environment and supporting reductions in your energy bill.